Alcoholism Help
I Discovered A Solution
. . . then I found so much more.
I knew that alcoholism help was available. The problem, though, with alcoholics is that we often are either in such a state of denial or such a state of defiance that we don't want help! This can be maddening for friends and family members who can see that alcoholism help is clearly the order of the day.
If you have a problem with alcohol, help is out there. If you are at the end of your rope and are ready, as I finally was, to accept help, please read on.

From my perspective, a recovering alcoholic, these are the best options for alcoholism help.

Alcoholics Anonymous
Alcoholism help is what Alcoholics Anonymous is all about. It is the most obvious option, a program that has been helping alcoholics and their families for 70 years. It literally saved my life, as it saves thousands of lives each year. It touches the lives of thousands more in so many ways. You can read more on new-life-in-recovery.com about Alcoholics Anonymous and how it works by clicking the "READ MORE" link below.
Celebrate Recovery
Help is also available through Celebrate Recovery, a Christian twelve-step recovery program. The program was developed by a recovering alcoholic named John Baker in conjunction with Rick Warren, the pastor of Saddleback Church in California. The program has spread throughout churches all across the U.S. and the world. I have had the privilege of being involved in this program both as a participant and as a leader. In 2006, I was blessed to be able to attend the annual "Summit" at Saddleback Church. You can read more on new-life-in-recovery.com about the Celebrate Recovery program and how it works by clicking the "READ MORE" link below.
Life Recovery Bible
Alcoholism help is written in the pages of the Life Recovery Bible. As I grew in my spiritual program by working the Twelve Steps, I began attending Lake Pointe Church in Rockwall, Texas. Most of my church background was in the Lutheran denomination but Pastor Steve Stroope and his teachings at Lake Pointe touched me in a way that no one else could. More importantly, it led me to a hunger for the Word of God.
The Life Recovery Bible was so relevant to what I was experiencing as I grew in my recovery. Read more about this wonderful Bible HERE:
---
Hey! I made the Top 100 Sites:

---

One of the best lessons I have learned in my recovery is to KEEP IT SIMPLE. These three things listed above are what I personally turned to for alcoholism help in the early days of my recovery. Today, I still rely on them to keep me sober and growing in my recovery.
What's amazing is that by keeping it simple in this way, God keeps disclosing more of Himself to me and expanding my world in ways I never thought possible. My blessings are too many to count.
One of my special A.A. friends told me once, "Julie, don't forget the horse you rode in on!" When I start to complicate things, as I often do, and get wrapped up in too many extracurricular activities and ideas, I have to remember what started me off: Alcoholics Anonymous.
Then I remember the suffering alcoholic who walked through the doors of A.A. only days before who just might need the help and hope I can offer. I return to the place that started me on this incredible new life in recovery.
My suggestion: START YOUR JOURNEY TO RECOVERY WITH ALCOHOLICS ANONYMOUS. God will carry you from there.
---
Confidential substance abuse treatment help, resources, and information: HERE
---
---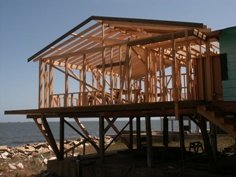 Always Under Construction.
Check back often to monitor the progress!